In his speech in Oslo on the occasion of the 2019 Nobel Peace Prize, Ethiopian Prime Minister Abiy Ahmed, sharing his award with President Eritrean Isaias Afwerki, put things back in the right place. In his words, he stressed the blatant mistake of a Nobel committee that should have awarded the prize to both presidents rather than just one.  And this for at least two very good reasons. The first, and most obvious, is that it takes two to make peace. Without the will of one of the two contenders, in fact, there would have been no agreement, nor even peace. The second, perhaps less well known but more serious, is that the country attacked was Eritrea.
The basic consideration, therefore, is that even a cultured and attentive environment, such as that of the Nobel Peace Committee, in expressing its judgment and awarding the prize, has been the victim of the campaign of international defamation that for decades has painted Eritrea for what it was not. A ferocious, false propaganda narrative, used for hegemonic purposes that still, as we see, produces negative effects on Eritrea.
In order to make it clearer how things are going, at this point we feel we must remember that, despite the promises made by Prime Minister Abiy, the Eritrean territories that were militarily occupied by the government that preceded him have not yet been evacuated because of the refusal of the Tigrin troops to obey Abiy's orders. This creates a serious credibility problem for Abiy, who, despite his clear commitment, is not perceived to be able to guarantee the commitments he has made.
In reality, Asmara has always worked for peace, working for real stability in the entire area of the Horn of Africa: from Sudan to Somalia, from Djibouti to Ethiopia. The war and the destabilization activities carried out against Eritrea, as recently revealed by documents of American origin, have been suffered by the government of Asmara and certainly not desired.  For a long time, more countries would have liked to dismiss the government led by President Afewerki and take control of a country of high strategic value. But, as is well known, that is not the case. The resilience and pride of six million Eritreans have written a different page.
A page of emblematic history for the whole of Africa that was remembered in Oslo by Prime Minister Abiy on the evening of the Nobel Prize ceremony. The following are some of the most salient passages of the speech given by the Ethiopian Prime Minister, a young and enlightened Prime Minister who is fighting courageously for his people and future generations in Africa and who, by publicly sharing the Nobel Prize with President Afewerki, wanted to remedy a resounding mistake and open a new season of peace, justice and loyalty that applies not only to the Horn of Africa but to the entire continent.
"I am honored to be here with you, and deeply grateful to the Norwegian Nobel Committee for recognizing and encouraging my contribution to a peaceful resolution of the border dispute between Ethiopia and Eritrea. I accept this award on behalf of Ethiopians and Eritreans, especially those who made the ultimate sacrifice in the cause of peace. Likewise, I accept this award on behalf of my partner, and comrade-in-peace, President Isaias Afeworki, whose goodwill, trust, and commitment were vital in ending the two-decade deadlock between our countries. I also accept this award on behalf of Africans and citizens of the world for whom the dream of peace has often turned into a nightmare of war". (…)
"During the war between Ethiopia and Eritrea, an estimated one hundred thousand soldiers and civilians lost their lives. The aftermath of the war also left untold numbers of families broken. It also permanently shattered communities on both sides. Massive destruction of infrastructure further amplified the post-war economic burden. Socially, the war resulted in mass displacements, loss of livelihoods, deportation and denationalization of citizens. Following the end of active armed conflict in June 2000, Ethiopia and Eritrea remained deadlocked in a stalemate of no-war, no-peace for two decades. During this period, family units were split over borders, unable to see or talk to each other for years to come. Tens of thousands of troops remained stationed along both sides of the border. They remained on edge, as did the rest of the country and region. All were worried that any small border clash would flare into a full-blown war once again. As it was, the war and the stalemate that followed were a threat for regional peace, with fears that a resumption of active combat between Ethiopia and Eritrea would destabilize the entire Horn region". (…)
 "And so, when I became Prime Minister about 18 months ago, I felt in my heart that ending the uncertainty was necessary. I believed peace between Ethiopia and Eritrea was within reach. I was convinced that the imaginary wall separating our two countries for much too long needed to be torn down. And in its place, a bridge of friendship, collaboration and goodwill has to be built to last for ages".
 "That is how I approached the task of building a peace bridge with my partner President Isaias Afeworki. We were both ready to allow peace to flourish and shine through. We resolved to turn our "swords into plowshares and our spears into pruning hooks" for the progress and prosperity of our people. We understood our nations are not the enemies. Instead, we were victims of the common enemy called poverty. We recognized that while our two nations were stuck on old grievances, the world was shifting rapidly and leaving us behind. We agreed we must work cooperatively for the prosperity of our people and our region."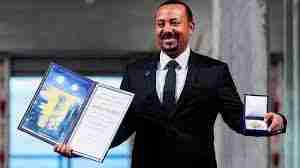 "Today, we are reaping our peace dividends. Families separated for over two decades are now united. Diplomatic relations are fully restored. Air and telecommunication services have been reestablished. And our focus has now shifted to developing joint infrastructure projects that will be a critical lever in our economic ambitions. Our commitment to peace between our two countries is iron-clad."
 "A famous protest slogan that proclaims, "No justice, no peace," calls to mind that peace thrives and bears fruit when planted in the soil of justice. The disregard for human rights has been the source of much strife and conflict in the world. The same holds in our continent, Africa. It is estimated that some 70 percent of Africa's population is under the age of 30. Our young men and women are crying out for social and economic justice. They demand equality of opportunity and an end to organized corruption. The youth insist on good governance based on accountability and transparency. If we deny our youth justice, they will reject peace. Standing on this world stage today, I would like to call upon all my fellow Ethiopians to join hands and help build a country that offers equal justice, equal rights, and equal opportunities for all its citizens".